Shawnita Harris: Success from Stability
Shawnita Harris has been a resident of Benning Heights apartments, in Washington, DC, for more than 8 years. In November of 2017, Shawnita was referred to Turnaround, Inc.'s workforce empowerment program by her Operation Pathways, Resident Services Coordinator, Ms. Adeela Abassi. Shawnita has spent the last 18 years as a single parent,raising two boys on her own. When she came in to interview with Turnaround, she was re-entering the workforce after spending more than 2 years unemployed.
Shawnita was hired, and from her very first day on the job, she demonstrated that she is highly motivated and ready to get her hands dirty. Over the course of her employment, she has learned so many new trade skills. Including, painting, drywall, apartment turnover processes, as well as basic electrical and plumbing skills. She has mastered the use of several power tools, overcoming fear and uncertainty, through sheer determination and grit. As a result of her commitment to her own advancement, Shawnita recently received a promotion, to the role of Crew Lead. The duties of her new role include, delegating tasks among other crew members, ensuring quality control, coordinating job logistics with site staff, ordering materials, and driving the crew in the work van.
The stability she has created for herself, through consistent housing and employment, empowers Shawnita to manifest a future that once seemed like a distant fantasy. Her eyes sparkle with joy, as she speaks of the increased confidence and sense of self-worth she has gained from full-time employment. She loves her job and enjoys building upon the relationships she has forged with her coworkers. She strives to continue advancing with Turnaround, and her dedication and perseverance ensure that the sky is truly the limit for Shawnita
Turnaround's First Success Story: Greg Blaine
On a brisk 2017 February morning , Greg Blaine walked into Turnaround's small office in Southeast Washington. He was there for his first job interview in over a decade. His smile was bright and infectious, but he was visibly nervous. He spoke quietly with little eye contact, as he recounted some of his background.
Greg was unemployed, recuperating from a traumatic brain injury, and had spent years surviving on the streets of Washington, DC. One of the city's many homeless combat veterans, he was now housed and eager to get back on his feet. As he spoke, he wore both his heart and his enduring optimism on his sleeve. Greg was interviewing for one of the very first trainee positions offered at Turnaround, Inc (TAI),
Greg was hired, and started work as a TAI trainee on March 6, 2017. He recently celebrated  three years of full-time employment with us. He has completed more than 600 property maintenance and painting assignments. He no longer requires SNAP assistnace, and has hardly missed a day of work. Greg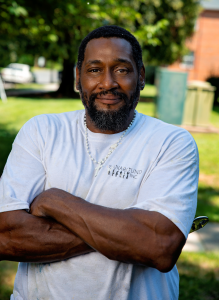 has been team lead on dozens of jobs, partnering with and mentoring new trainees. He beams with pride, and speaks with obvious joy about his ability to provide for himself and his family. Greg sees a future filled with promise, for the first time in many years.
Greg has overcome more challenges in a year than many see in a lifetime, and yet his determined spirit and gentle kindness are unwavering. He is a model in his community and provides inspiration to all whom he encounters. Turnaround, Inc.'s Executive Director, Gabrielle Cesar-McBride, says, "We are so proud to have Greg on our team, and will continue to create opportunities for him, as he vaults toward even greater success."